Articles
Three new perpetual futures contracts are based on the price of the underlying Uniswap LP (UNI-V2) Tokens ETH/USDT, UNI/ETH, and WBTC/ETH.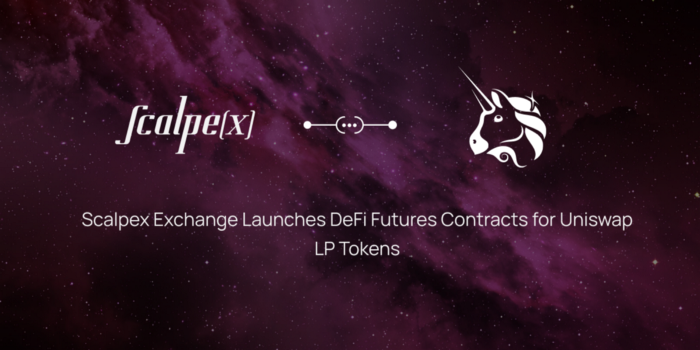 Crypto derivatives exchange Scalpex listed three unique DeFi products based on the stable Uniswap Liquidity Pools. All three contracts come with 1x, 3x, or 10x leverage.
DeFi Futures contracts open the way to earn from DeFi liquidity providing without actually locking crypto assets and dealing with smart contracts. DeFi Futures help avoid high transaction costs and delay/latency related to the interaction with ERC20 smart contracts.
DeFi Futures is an exciting instrument for investors and traders who want to earn from Liquidity Providing price movement without getting into Uniswap details, learning the LP market, and paying high entrance fees.

DeFi Futures are nominated in USD so that you can always see actual revenue from your investments. You can use stop-loss and take-profit orders, which is impossible in Uniswap. The contract mark price is calculated for each tick in the price change of the pool's currencies. You can always compare the Scalpex DeFi Futures mark price with the original LP token price estimation on its smart contract address at Etherescan.
Scalpex DeFi Futures Contract value is shortened for convenience; otherwise, it reflects as closely as possible the value of the underlying Automated Market Making contract at Uniswap.
Scalpex DeFi Futures allow traders to participate in the DeFi market even with small deposits. Finally, actual Uniswap liquidity providers might find DeFi Futures interesting for hedging their current Uniswap positions to protect their profits from unexpected price movements.
Scalpex decided to explore DeFi Futures after a thorough analysis of the DeFi market. Decentralized finance offers uniquely reliable opportunities to earn from crypto. So far, DeFi robustness comes with drawbacks such as high fees, low speed, and a steep learning curve. Scalpex offers a centralized approach to earn from decentralized instruments fixing those drawbacks. Moreover, Scalpex offers trading DeFi Futures with up to 10x leverage.
"This is the cornerstone of DeFi integration into Scalpex. We see a huge potential in developing decentralized finance. We aim to make DeFi an easy, accessible, and usable investing and trading instrument,"- says Michael Shabounin, CEO of the Scalpex crypto derivatives exchange.
Scalpex
Scalpex is a cryptocurrency derivatives trading platform established in August 2020. The company is registered in the British Virgin Islands (BVI) and provides online trading services to individual retail clients and professional derivatives traders.
Uniswap
Uniswap is a leading decentralized crypto exchange that runs on the Ethereum blockchain. Uniswap is a completely different type of exchange that's fully decentralized — meaning it isn't owned and operated by a single entity — and uses a relatively new type of trading model called an automated liquidity protocol.
The Uniswap platform was built in 2018 on top of the Ethereum blockchain, the world's second-largest cryptocurrency project by market capitalization, which makes it compatible with all ERC-20 tokens and infrastructure such as wallet services like MetaMask and MyEtherWallet.
More details
Trade Scalpex DeFi Futures
Trade ETHUSDT-ULP Futures
Trade UNIETH-ULP Futures
Trade WBTCETH-ULP Futures
Scalpex DeFi Futures Contracts Specifications
Uniswap Liquidity Pools